The Handozer D3.5-MG Driveway Leveling Grader from Handozer Distributing is designed to grade, groom, and level the toughest surfaces. It can handle soil, sand, gravel, and more. The D3.5 grader features a user friendly, 42" wide grooming surface that specifically designed for use with either a riding lawn mower, garden tractor, or small ATV.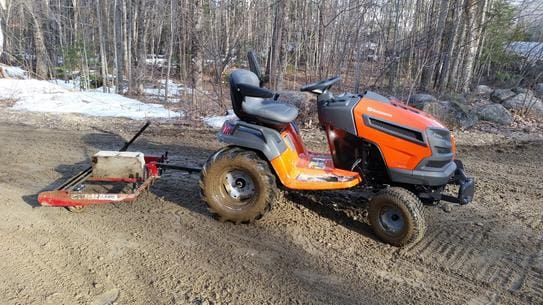 Thanks to its 6-inch caster system, the Handozer D3.5-MG is extremely easy to transport and handle. By attaching the included pull-rope to the caster lever, you can remotely operate the D3.5 Grader from the seat of your mower! The adjustable clevis hitch gives you total control of the driveway grader's spike depth. In addition, the 8 front spikes are adjustable and rip apart gravel driveways with ease.
Handozer's D.35-MG Driveway Groomer also features a reversible back grading bar / rake that has three positions for raking or grading different kinds of soil. If you need to weigh down the driveway grader, you can simply place a cinder block on the brackets conveniently located on its frame. The side rail and tow-hitch design of Handozer's D3.5-MG allows you to maintain the performance depth you desire while aggressively cutting the toughest of compacted gravel surfaces. The D3.5-MG makes gravel driveway repair easy.
The new caster assembly & rope system enables the Handozer to be driven from place to place & grade gavel & soil like a 3-Point tractor! D3.5-MG Ships UPS.
#1 Best in class Driveway Grader
Towed with Garden Tractors or small ATV's
Durable high-grade steel construction
5/8" x 8" Harrow spikes and tow hitch easily adjust to the depth you desire
Easy to use for men and women
Works great in a variety of wet or dry conditions
Tow-behind models include flat proof wheels for convenient transport
 New reversible & pivoting grading rake